Press Release: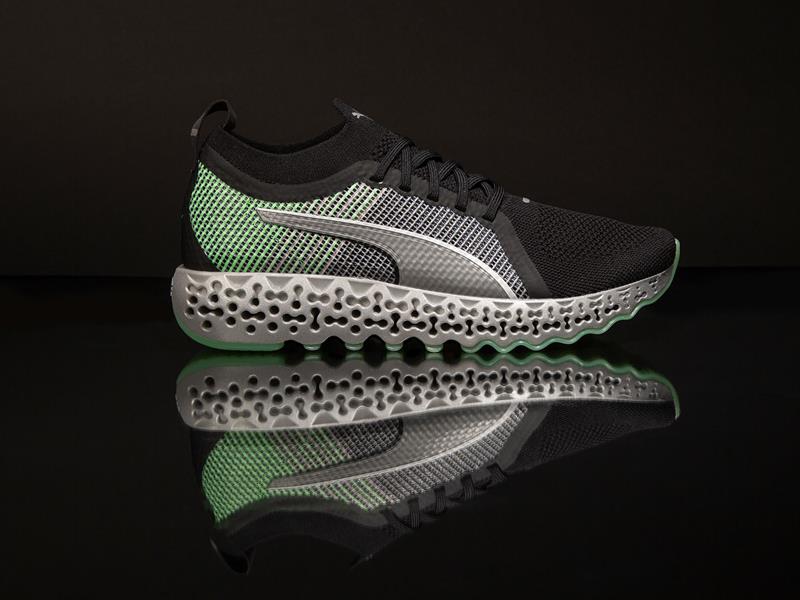 Global sports brand PUMA, as part of a sponsored research collaboration with MIT Design Lab, has created XETIC, a cushioning technology, which will start a new era by combining the worlds of mechanical cushioning and foam. This ultramodern performance innovation will provide for an excellent comfort for walking and will be first introduced in a new street-ready sneaker called Calibrate Runner.
While the futuristic visible technology of XETIC may look like 3D printing at first, XETIC is not made of plastic, it is foam. XETIC takes its name from "auxetic materials", structures, which behave in a certain way when they are subjected to mechanical stresses such as compression. For XETIC, this means the cushioning provides an excellent comfort for all wearing occasions.
"PUMA's innovation department teamed up with MIT Design Lab because we needed their highexpert engineering capabilities," said Romain Girard, Senior Head of Innovation at PUMA. "MIT has computer simulation possibilities, which enabled us to see the behavior of the material and quickly find the optimal structure for calculated cushioning."
PUMA and MIT Design Lab worked with an extensive runner community to analyze individual running specifics, such as pressure points, and they then took the data to develop a specifically shaped structure that allows for progressive cushioning. The result was a structure shaped like the horizontal number 8, which is characteristic for the XETIC.
The whole team was delighted with the ability to work on a project that allowed them to explore such a new space and to see all the efforts culminating in the creation of the Calibrate Runner. Over the course of the project qualitative and quantitative user testing was used, a novel finite element analysis simulation, and parametric design to find the perfect pattern, which was named 'Recurve'.
With its visible XETIC technology, Calibrate Runner has a unique futuristic aesthetic, which will appeal to the techiest of streetwear collectors, while giving athletes access to a new era of cushioning. Straight from the lab, into the future.
A perfect blend of technology, comfort and performance is offered by PUMA x Porsche Design models Xetic M, Xetic L and Xetic M Shift. These models are well rounded delivering maximum performance and luxury in every situation. State of the art fabrics featuring 100% recycle mesh and chrome free leather including a Bloom sockliner imbue the shoes with a special and exclusive look.
Advertisement:
Bestseller No. 1
Bestseller No. 2
Bestseller No. 3
PUMA Men's Softride Enzo NXT Running Shoe, Grape Leaf Black-Green Glare, 12
BOOTIE CONSTRUCTION: Bootie construction upper for easy entry BOLD BRANDING: Bold youthful branding on Gore strap TPU EYESTAY: Overlay cage design integrating laces. Perfect for color blocking and material play. Upper
SOFTRIDE: PUMA's softest foam providing extreme cushioning and all-day comfort. SOFTFOAM+: Softfoam+ for enhanced comfort PAINT: Customization with painted midsole options Midsole
ZONED RUBBER: Zoned heel/toe rubber for outsole traction during training Outsole
Sale
Bestseller No. 4
Bestseller No. 5
Sale
Bestseller No. 6
Sale
Bestseller No. 7
Sale
Bestseller No. 8
PUMA mens Axelion Running Shoe, Puma White-glowing Pink, 9 US
TPU shank in midfoot offers support and control through heel.
Full rubber outsole provides traction and grip.
Embroidered PUMA Cat Logo at lateral toe
Extended lacing system for secure fit and feel
Split rubber outsole provides arch support and shock absorption in the heel
Sale
Bestseller No. 9
Bestseller No. 10
I get commissions for purchases made through links on this website. As an Amazon Associate I earn from qualifying purchases.