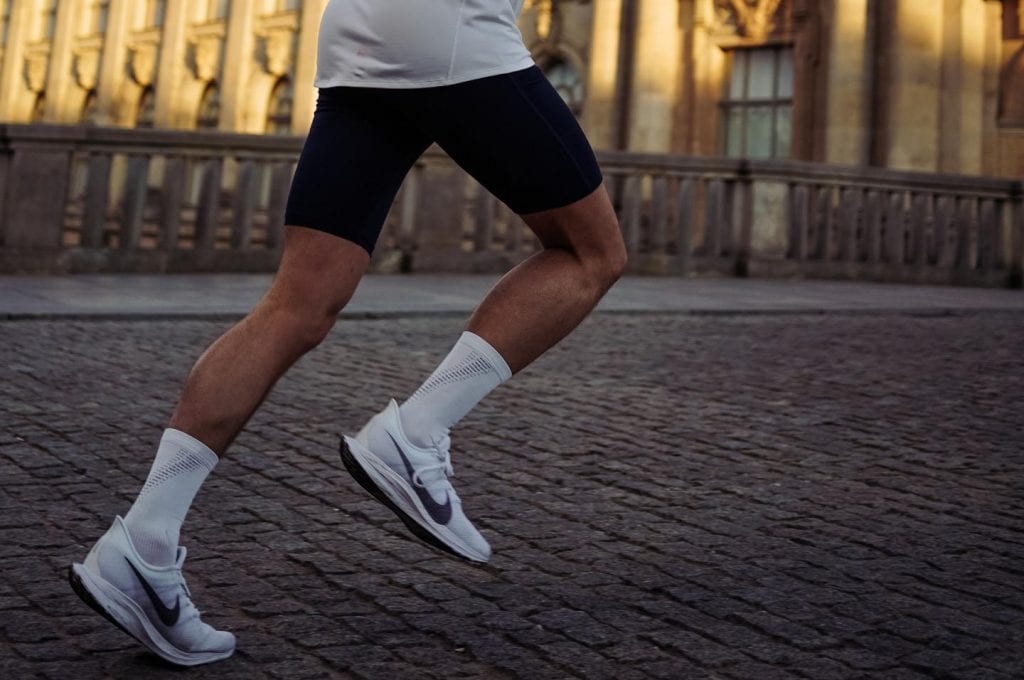 Press Release:
New research from La Trobe University suggests there is no evidence that changing a runner's strike pattern will help prevent injuries or give them a speed boost.
In a bid to avoid shin splints, sore knees and other injuries, many runners have adopted a toe-to-heel trend, running on the balls of their feet. This is often encouraged by coaches and health professionals.
However, in research out this week in Sports Medicine, La Trobe injury researcher and physiotherapist Dr Christian Barton found there is no evidence to suggest running on the front of your feet reduces injury risk or improves performance.
"We analysed 53 studies which looked at the impact of forefoot, rearfoot and flatfoot running patterns on injury, running economy and running biomechanics," senior author of the study, Dr Barton said
"Our comprehensive review suggests that telling someone to run on the ball of their foot instead of their heel may make them less efficient, at least in the short term. Additionally, there is no evidence either way on whether running on the balls of your feet reduces injury."
Dr Barton said switching your running style shifts the body's loads but doesn't make them disappear.
"Running toe-heel might help injuries at the knee, where loads are reduced. However, it may cause injuries to the feet and ankle, where loads are increased," Dr Barton said.
"Put simply, when it comes to running style: If it ain't broke, don't fix it."
Advertisement:
Bestseller No. 1
Sale
Bestseller No. 2
Sunny Health & Fitness Squat Assist Row-N-Ride Trainer for Glutes Workout with Training Video
The NO. 077 Trainer includes access to an online training video within the package. THE TRAINING VIDEO IS ONLINE ONLY AND WILL NOT INCLUDE A DVD IN THE PACKAGE
DIGITAL MONITOR: Use the digital monitor to follow your workout progress with the ability to track time, calories, count, and scan.
ADJUSTABLE RESISTANCE: The three resistance bands can be added or removed to adjust the resistance of your workout to your fitness level. Each band is approximately 22 pounds of resistance.
ADJUSTABLE SQUAT DEPTH: Adjust the saddle angle to 30, 60, or 90 degrees to add depth to your squat and variety to your workout program.
VERSATILE HANDLEBARS: Take advantage of multiple hand positions to work muscles in your back and chest. Adjust the machine to your body length with the handle and saddle distance control, to ensure proper form with every squat.
Bestseller No. 3
Sale
Bestseller No. 4
Bestseller No. 5
Bestseller No. 6
Breath
Amazon Prime Video (Video on Demand)
Simon Baker, Samson Coulter, Ben Spence (Actors)
Simon Baker (Director) - Simon Baker (Writer) - Simon Baker (Producer)
English (Playback Language)
English (Subtitle)
Sale
Bestseller No. 7
XTERRA Fitness TR150 Folding Treadmill Black
Large 16" X 50" Walking/running surface
Large 5 inch LCD display is easy to read and keeps you updated on speed, incline, time, distance, calories, and pulse
Speed range 0. 5 -10 MPH allows for users of all fitness levels.Pull the knob to release the deck to fold or unfold
12 preset programs offer unmatched variety for your workouts
3 Manual incline settings allow for maximum variety. Side rails: plastic. Belt: 1 ply, 1. 4mm
Sale
Bestseller No. 8
Bestseller No. 9
Xbox One Power Supply Brick [2021 Advanced Quieter Version] Xbox Power Supply Brick Cord Low Noise 100V-240V AC Adapter Power Supply Charger Replacement for Xbox One with Cable
▶[High Quality Power Supply]: The profession xbox one power brick is made of ABS contained material which can prevent burning. And buit-in a good quality cooling-fan comes with good heat disspation, and lasting a longer lifetime. A good replacement for your official power supply.
▶[Newest Version]: This xbox one power supply is different from the other ones, it is the advanced version, no loud buzzing, no fan noise, do not worry to be interrupted your life, just enjoy the game and will be more fun. A better choice for Xbox One Console and Xbox One Elite.
▶[Globalwide Use: AC100-240V]: Auto AC100-240V Global Universal Xbox One power adapter can be used worldwide. A good replacement and Works Perfectly for Xbox One Consoles.
▶[Good Heat Disspation + LED Light Indicator]: Built inside high quality cooling-fan and Technical Heat Disspation hole design which bring a good heat disspation, The Special LED light indicator indicate the different Status. Working Status: Green Light on; Standby Status: The LED Light indicate Orange.
▶[Awesome Customer Service Support]: For this Xbox One power supply brick,we offer friendly customer service and 24-hours online service after you order this Xbox One power brick. Please feel free to contact us for any questions of Xbox One power adapter
Bestseller No. 10
Sleek Technique - Ballet Body Box Set (3 Dvd's)
3 DVD Boxset
Sleek Technique Ballet Body Box Set consists of 3 DVDs:
Sleek Ballet Bootcamp, Sleek Barre Technique & Full Ballet Body Sculpt
Flik Swan, Victoria Marr (Actors)
Matt Wright (Director) - Christine Romano (Producer)
I get commissions for purchases made through links on this website. As an Amazon Associate I earn from qualifying purchases.