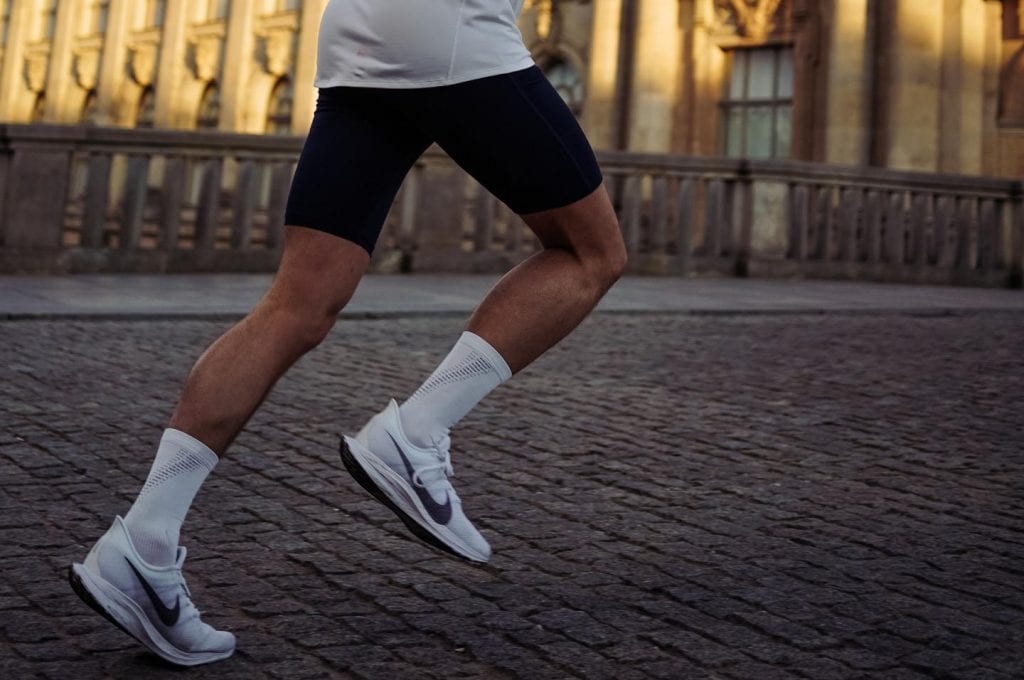 Press Release:
New research from La Trobe University suggests there is no evidence that changing a runner's strike pattern will help prevent injuries or give them a speed boost.
In a bid to avoid shin splints, sore knees and other injuries, many runners have adopted a toe-to-heel trend, running on the balls of their feet. This is often encouraged by coaches and health professionals.
However, in research out this week in Sports Medicine, La Trobe injury researcher and physiotherapist Dr Christian Barton found there is no evidence to suggest running on the front of your feet reduces injury risk or improves performance.
"We analysed 53 studies which looked at the impact of forefoot, rearfoot and flatfoot running patterns on injury, running economy and running biomechanics," senior author of the study, Dr Barton said
"Our comprehensive review suggests that telling someone to run on the ball of their foot instead of their heel may make them less efficient, at least in the short term. Additionally, there is no evidence either way on whether running on the balls of your feet reduces injury."
Dr Barton said switching your running style shifts the body's loads but doesn't make them disappear.
"Running toe-heel might help injuries at the knee, where loads are reduced. However, it may cause injuries to the feet and ankle, where loads are increased," Dr Barton said.
"Put simply, when it comes to running style: If it ain't broke, don't fix it."
Advertisement:
Bestseller No. 1
Sale
Bestseller No. 2
Bestseller No. 3
Bestseller No. 4
Tool Daily Foam Cannon with 1/4 Inch Quick Connector, 1 Liter, 5 Pressure Washer Nozzle Tips
Adjustable Snow Foam Lance with 1/4" quick disconnection fitting. Container Capacity: 1 Liter / 0.22 Gallon. Specification: 1000 PSI to 3000 PSI.
EASY to install: fill some soap into the bottle with warm water to get thick foam; Then connect 1/4" quick connection plug to Pressure Washer Gun or Wand. Finally, adjust the knob on the top to desired foam level and then Foam Blaster will disperse thick foam. The knob adjusts the foam dispensing amount and the nozzle adjusts the sprinkle pattern.
Adjustable nozzle for accurate mixing and foam generation. Turn the top knob right (-) to get the thickest mixture, adjust the nozzle to get a proper sprinkle pattern, and let it loose.
5 Nozzle Tips have different angle (0, 15, 25, 40, 65 degree). Choose different nozzle according to the actual need. Such as watering flowers and plants, washing car. They also can be attached to a Quick-Connect Wand for swifter application and more.
Application: ideal for Motorcycle, Car Washing; Roofs, Driveways, Siding washing; floors, Windows washing, it is best product for Detailing Trucks or SUVs.
Bestseller No. 5
Anatomy of a Stride
Amazon Prime Video (Video on Demand)
Kate Fuquay (Actor)
Alex Pollini (Director) - Ben Reid (Producer)
English (Playback Language)
English (Subtitle)
Bestseller No. 6
Sale
Bestseller No. 7
Bestseller No. 8
Sale
Bestseller No. 9
Bestseller No. 10
Sleek Technique - Ballet Body Box Set (3 Dvd's)
3 DVD Boxset
Sleek Technique Ballet Body Box Set consists of 3 DVDs:
Sleek Ballet Bootcamp, Sleek Barre Technique & Full Ballet Body Sculpt
Flik Swan, Victoria Marr (Actors)
Matt Wright (Director) - Christine Romano (Producer)
I get commissions for purchases made through links on this website. As an Amazon Associate I earn from qualifying purchases.