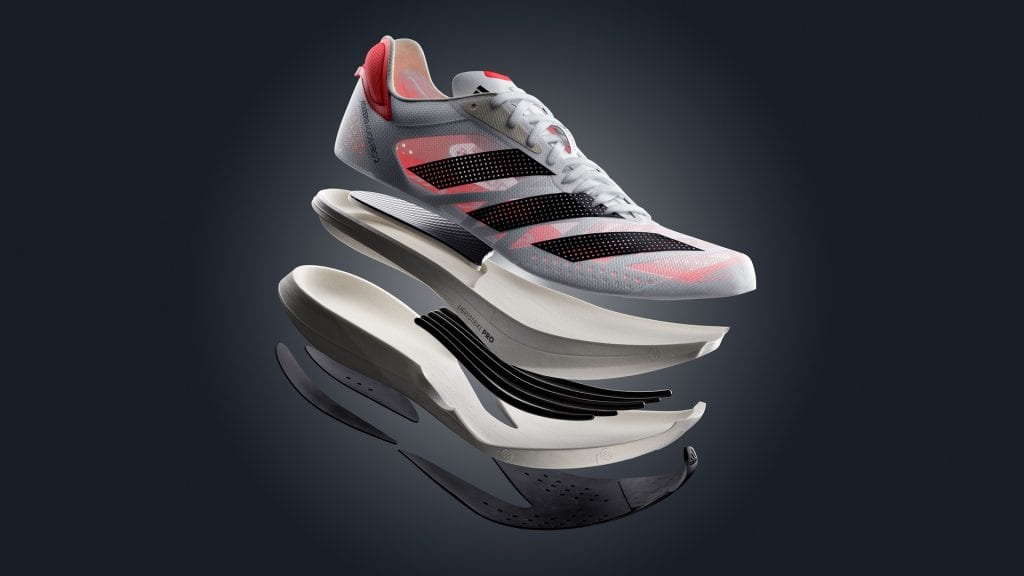 Press release:
Today, we are revealing the latest evolution of adizero footwear built for speed on the road and the track. Led by the next iteration of our record-breaking elite performance shoe, the ADIZERO ADIOS PRO 2, and the all-new ADIZERO BOSTON 10, ADIZERO PRIME X and AVANTI Track Spike.
ADIZERO ADIOS PRO 2
Debuting last year, the ADIZERO ADIOS PRO took the road running world by storm, when our athletes broke world records. During the shoes' first season, Kenya's Peres Jepchirchir broke the existing women's only half marathon world record twice, whilst Kibiwott Kandie set the fastest ever time, taking 29 seconds off the previous record he held. Since stepping in to the ADIZERO ADIOS PRO last year, I ran my fastest ever time and broke world records in the process. I proved to my family that all that time spent apart from them was worthwhile.
Since then, I've been working closely with the adidas running team to identify areas that we can refine to help improve the new shoe. Developing a product that gives me the confidence and performance I need to do it all over again in 2021.Peres Jepchirchir, adidas Athlete & World Record Holder
The updatedADIZERO ADIOS PRO 2 is a symbol of our ambition to constantly evolve elite performance running footwear. It has been designed, developed and tunned with some of the fastest athletes in the World resulting in a silhouette that is lighter than its predecessor.
The shoe features two-layers of re-sculpted LIGHTSTRIKE PRO midsole – a revamped construction to support with energy return. Signature carbon-infused ENERGYRODS – now visible within the newly sculpted midsole deliver lightweight stiffness and are designed for a more anatomical driven transition, limiting energy loss. The re-engineered midsole combines with an ultra-lightweight, partially recycled polyester, CELERMESH 2.0 upper. Created for speed with flexibility, breathability and support based on athlete data. In addition, a CONTINENTAL™ RUBBER OUTSOLE has been added to the toe tip to create a traction zone to support faster acceleration and a new lightweight heel construction keeps the foot tightly locked in through anti slip lockdown, whilst softening the heel structure to help increase comfort.
ADIZERO BOSTON 10
Building on the adizero heritage and design evolution, the collection brings the ADIZERO BOSTON 10. Offering runners, the best of the ADIZERO ADIOS PRO 2 race day set up in a versatile, every day running shoe. Featuring the same LIGHTSTRIKE PRO combined with a durable LIGHTSTRIKE EVA midsole foam, ENERGYRODS, a soft upper construction and CONTINENTAL™ RUBBER OUTSOLE, to support every day long distance training runs with a durable lightweight ride.
ADIZERO PRIME X
Continuing the collection, the ADIZERO PRIME X has been created as a boundary-breaking conceptual long distance running shoe. Designed without limitations to amplify key features of the ADIZERO ADIOS PRO 2 and explore and push the limits of the technology. Sharing the same LIGHTSTRIKE PRO midsole and ENERGYROD technology, stiffening blades, that spring back, have been added within a 50mm heel.
We're particularly excited about ADIZERO BOSTON 10. With outstanding athlete feedback so far, the shoe is yet another vision brought to life in our endless mission to create only the best for the athlete and continue to enable world record-breaking performances.James Foster, Vice President Product at adidas Running
AVANTI TRACK SPIKE
Rounding off the collection, is the all-new AVANTI TRACK SPIKE, bringing the very best of the record-breaking road running shoe to the track for the very first time. Set to be worn by some of the world's fastest on the biggest stage this summer over 5,000m and 10,000m, it's specifically tailored for speed. Retaining the signature ENERGYROD technology, honed for the track surface by switching to a glass fibre composition – ensuring stiffness whilst adding flexibility for the track. A SLINGLAUNCH HEEL construction has been placed around the back of the shoe, inspired by rock climbing silhouettes, designed to lock in the foot to create a secure and anti-slip fit from the first to the last stride.
The adizero collection has been developed using insight and data from some of the world's fastest athletes. During training camps in Kenya, mechanical, biomechanical, and physiological data was captured from leading endurance athletes to inform the present and future of adidas racing shoes.
The ADIZERO ADIOS PRO 2 and ADIZERO PRIME X will be available at adidas.com with early access for Creator Club Members on June 16th and the global launch from June 18. ADIZERO BOSTON 10 will be available at adidas.com and select retail partners from June 16. Every purchase of one of the three new silhouettes within the adizero collection, via the adidas app and in adidas stores, will unlock a three-month free Premium Membership in the adidas Running app.
Sale
Bestseller No. 1
Bestseller No. 2
Bestseller No. 4
Sale
Bestseller No. 5
Sale
Bestseller No. 6
adidas Women's Adizero Boston 7, grey/white/shock red, 10 M US
Weight: 7.1 ounces (size 7); Midsole drop: 10 mm (heel: 29 mm / forefoot: 19 mm); Arch type: High / normal
Tight, snug fit for racing performance: Recommend a half size bigger
Air mesh upper for breathability; Designed for high speed, Microfit locks the foot down for a direct fit and fast run
Boost is our most responsive cushioning ever, delivering incredible energy return: The more energy you give, the more you get
Stretchweb outsole flexes naturally for an energized ride, and Continental Rubber gives you superior traction
Bestseller No. 7
Sale
Bestseller No. 9
Sale
Bestseller No. 10
I get commissions for purchases made through links on this website. As an Amazon Associate I earn from qualifying purchases.