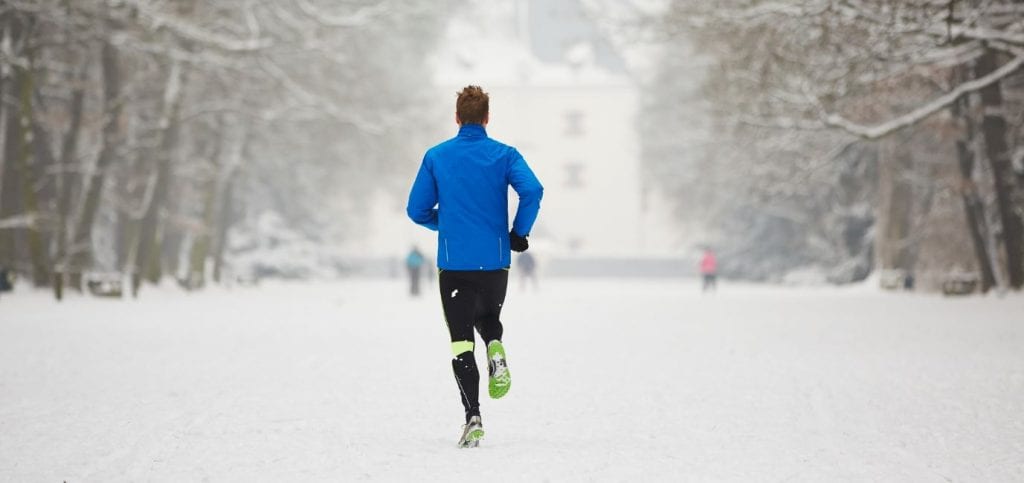 There are some dangers that are associated with exercising in the cold, even though it can be an exhilarating and rewarding experience. Cold injury is common in some of those extreme type sports, but not always necessarily in running, but it does have its dangers. Precautions do need to be taken and you do need to be aware of the signs of an impending problem with your body in the cold and you do need to know what to do.
Hypothermia is probably the greatest and most serious problem and most well known, due to the potential to become fatal if not addressed quickly and properly. You are at greater risk if it is cold, windy, and wet; if you are young, tall and thin; and if you run at a slower pace. The classic signs of hypothermia are shivering, slurred speech, a lethargy, a slow and shallow breathing, a weak pulse and a clumsiness or lack of coordination. If any of this starts to happen there is an urgency to getting the runner warmed up and get more help.
At the other extreme of the spectrum are the relatively minor issue of chilblains. This an inflammatory response of the small blood vessels in the toes (and sometimes the fingers) that can be quite painful. These do not happen in the extreme cold, but are more common in the colder climates, but are unheard of in the warm climates. They initially appear as a reddish colored painful and itchy patches on the toes, but can sometimes affect the fingers, nose and ears. If the chilblains do become chronic and keep occurring, they take on a dark blue color. They normally heal up reasonably quickly unless they keep recurring, which points to the importance of preventing them by use of warm socks and shoes. When one occurs, then soothing chilblain creams to stimulate the circulation is usually very helpful.
To avoid a cold injury, wearing several layers of clothing that designed for exercise are recommended. Take into account the direction of the wind when beginning your run and choose a route that is in a well populated area so you are not far from help if you need it. It is often a good idea to also wear a warm hat and gloves for further protection from the cold. If you have any real doubts, then don't go for a run. You could have a rest day or use a treadmill that is indoors.
Bestseller No. 1
SIMARI Winter Gloves Men Women Touchscreen Running Gloves Cold Weather Warm Gloves Driving Cycling Texting Workout Training
【Touch Screen Design】With the Unique and Sensitive touchscreen Fingers Capability, the SIMARI touch screen gloves are compatible with iPhone, iPad, computer and other intelligent equipment. You can freely texting, typing, play games, click smart watch and GPS panel of cars with the SIMARI phone gloves .
【Comfortable & Warm】The SIMARI winter gloves are made of 95% Polyester and 5% Spandex, with the warm Flannel lining and elastic cuff, enhancing the warmth and elasticity. When you go out, the SIMARI warm gloves can keep your hand warm and comfortable in cold weather.
【Anti-slip & Humanized Design】Coming with enough silicone particles on the palm, index finger and middle finger, which effectively increases the grip strength and abrasion resistance of the thermal gloves. Let you grip any tool firmly. And there are reflection patterns on the back of the gloves. It can reflect light and improve the safety of cycling at night.
【The Scope Application】The SIMARI Winter Gloves will be a great and practical gift for men, women, family or friends. The men women gloves is perfect for cycling, running, driving, motorcycling, walking, riding, hiking, climbing, golfing, fishing, shooting, workout, training, working sports outside or stay at home in winter early spring or fall.
【Warm Tips】You have no risk to have a try, just need to believe, we will be always with you. Any question, we are willing to try our best to solve it, without any requirement. If all customers are satisfied with our product, it will be our greatest achievement.
Bestseller No. 2
Bestseller No. 3
FitsT4 Women's High Waisted Fleece Lined Thermal Legging Tights Winter Yoga Pants with Pockets Black
Yoga Pants Designed For Winter: These women's thermal yoga leggings are made of athletic fabric. Soft thermal fleece lining helps keep you warmth in winter, while breathable material wicks sweat away quickly and keep you dry comfort during activities. Whether you're doing exercises, going for a long outdoor run or simply lounging at home, These women' s leggings will never fail to provide warmth and comfort.
Wide Waistband for Tummy Control: Elastic closure and wide waistband for tummy control, Gusset crotch and interlock stiching allows for free movement and flexibility.
Moisture Wicking Fabric & 4-Way Strecth for Mobility: These fleece lined yoga leggings are made from breathable fabric, which is soft like second skin with no irritation. 4-way strech fabric offers enough support, allows for flexible mobility.
Big Pockets for Essentials: These women's running leggings come with two big side pockets, big enough for 4",4.7",5",5.5" Mobile Phone, Waist hidden pocket are also available for cards & keys etc.
Multi Utilities: 28 inches leggings match with any style of shoes or boots, contouring your body for a slimming control fit. Ultra-soft fleece backed fabric is perfect for layering or wearing solo. Our cold weather leggings can be used for yoga, pilate, running, lounging or daily wear
Bestseller No. 4
BALEAF Women's Thermal Fleece Running Pants Cycling Tights Cold Weather Leggings for Bike Hiking Black Size S
Breathable, windproof water resistant soft brushed fabric helps you stay warm and lifts moisture away from skin for drier comfort
Soft fleece inside provides long lasting warmth and comfort, for fall or cold weather outdoor activities. Suitable for 20 - 40°F weather with snow
Back pocket with zipper securely stores your small items like keys, reflective elements for visibility in low light
Leg zippers for easy off and on, provide great convenience, the bottom of the pant leg being well above the ankle
BALEAF women's tights perfect for running, athletic, jogger, fitness, cycling, spin class, bike riding and all kinds of oudoor
Sale
Bestseller No. 5
Neleus Women's 3 Pack Compression Wear Athletic Long Sleeve Shirt for Girls,8021,Blue,Purple,Pink,L
Size is comparably smaller,So check the size chart of the third picture to select the appropriate size
Tight Fitting,like a second skin.Order 1 size up for Regular Fit
Super-soft fabric delivers incredible all-day comfort
Moisture Transport System wicks sweat to keep you dry & light; Stretch fabric for natural range of motion
Suitable for all seasons (training, baseball, basketball, soccer, American football, Squat, weight training, cycle, yoga, rashguard, skiing, snowboarding, all weather sports)
Bestseller No. 6
ARSUXEO Winter Warm UP Thermal Softshell Cycling Jacket Windproof Waterproof Bicycle MTB Mountain Bike Clothes 15-K Green Size Large
85% polyester+15% spandex.The fabric consists of three layers that keep you warm and dry. The top layer on the exterior is a rugged windbreaker surface that beads up moisture and prevents stains. The second layer is a waterproof breathable membrane film,and the third layer is a nice soft warm fleece.
Drop tail and elastic hem provide a precise on-bike fit,keep you warm in winter,Reflective elements on front and back add contrast to enhance nighttime visibility
Two pockets for storage inclde one front zipper pocket,Longer cuff design for extra coverage of your wrist,keeps the cold air away from you.
Stretch inserts for optimum fit,mobility, and air circulation(this part no windproof and waterproof).
Please read our size chart carefully before order,for this jacket many customers said the size runs small,so now we changed our size and disign,more close to US size,but maybe still runs a litte small.
Bestseller No. 7
Junyue 2 Packs Cold Weather Running Gear for Men Workout Tights with Pockets Youth Compression Pants Base Layer Football Cycling, #290-black+gray, X-Large
【Premium Fabric】Polyester + Spandex, 2 packs mens Compression Pants with Pockets Dry Cool Sports Baselayer Bottoms Running Tights Active Workout Leggings
【Moisture-Wicking】Wicking Dry Fit Base Layer Bottoms for Men, Moisture Sensing / Quick Dry and Breathable / Two-Way Air Circulation / Four-Way Stretch fabric, Material wicks sweat & dries really fast
【Excellent Quality】Spandex leggings with stretch, Stretch-mesh panels & flatlock inseam deliver strategic ventilation, Updated ergonomic design keeps seams off high abrasion areas & increases durability
【Side Pockets】Mens Long pants with pockets for holding phones, compression underwear geared for all weather and seasons, Size Up for regular fit. Non abrasion athletic base layer with excellent elasticity and durability.
【Various Occasions】Great for all of sports activities (running, baseball, basketball, football, hiking, cycle, snowboarding, skiing, training, soccer, squat, weight training, yoga)
Bestseller No. 8
FitsT4 Thermal Fleece Lined Cycling Tights Winter Hiking Leggings Running Workout Pants for Men Cold Weather Zip Pockets Black
Running Pants Designed For Winter: These men's thermal running pants are made of athletic fabric. Soft thermal fleece lining helps keep you warmth in winter, while breathable material wicks sweat away quickly and keep you dry comfort during activities. Whether you're doing excersices, going for a long outdoor run or simply casual wear, These men' s running tights will never fail to provide warmth and comfort.
Details For Practical & Comfort Fit: Elastic waistband supports your core section, Gusset crotch and interlock stiching allows for free movement and flexibility. Reflective elements increase visibility during a night run for saftety, Zipper leg opening for easy on and off.
Moisture Wicking Fabric & 4-Way Strecth for Mobility: These fleece lined running pants for men are made from breathable fabric, which is soft with no irritation. 4-way strech fabric offers enough support, allows for flexible mobility.
Multiple Pockets for Essentials: These men's outdoor hiking leggings comes with two big invisible zipper pockets, big enough for 5.5",6.5" Mobile Phone, Rear zip pocket are also avaiable for cards keys, 4.7" cell phones and other essentials.
Versatile Utilities: Ultra-soft fleece backed fabric is perfect for outdoor running,hiking and cycling. Our cold weather running leggings can be used for daily wear, Easy to match sports jackets or sneakers.
Sale
Bestseller No. 9
Winter Gloves for Men,Waterproof Thermal Gloves Cold Weather Running Gloves for Men Women, Touchscreen Men's Winter Gloves for Running Cycling Hiking Driving (Black,M)
【WARMER BREATHABLE LIGHTWEIGHT SOFT】Made of premium compression soft fabrics, provide performance for zero-pilling, super light and breathable, anti-static function. Fleece thermal lining is very soft and warm, elastic wrist design that prevents snow particles from entering the gloves, it also enhances the warmth and wind resistance of the gloves.
【WATERPROOF & WINDPROOF GLOVES】Made with multilayer softshell fabric and a waterproofing membrane inside the glove, this coldproof gloves keep your hands warm and dry on winter activities. Just have fun in winter outdoor skiing, snow shoveling, cycling, snowmobile, ice fishing, etc.
【SENSITIVE TOUCH SCREEN GLOVES】No need to take off winter touch gloves when you are using smart phone in cold, keep hands warm always. The thumb finger and index finger made of special premium conductive PU, they can offer the sensitive touchscreen function for both hands, conveniently use iPhone, GPS or other touchscreen devices.
【SILICONE PALM NON-SLIP DESIGN】These winter cycling gloves, with silicone printing on the palm, middle finger, ring finger and little finger, skid-proof and wear-resistant, let you grip any items firmly and make your work efficiently. Especially suitable for biking hiking driving cycling, and snow skiing in winter.
【MULTI OCCASION】These winter gloves are inserted with a waterproof membrane between polyester shell and warm fleece(WATER-RESISTANT). The cold weather gloves are perfect for cycling, riding, hiking, driving, skiing, running, dog walking, climbing, snowboarding, shoveling in winter. Thermal insulated warm gloves is a must winter accompany for outdoor sports or working.
Bestseller No. 10
Balaclava Ski Mask - Cold Weather Full Face Mask with Breathable Air Vents for Men & Women - Fleece Hood Ninja Snow Gear for Skiing, Snowboarding, Motorcycle Riding, Running & Winter Outdoor Sports
Everything Proof: For those painfully cold days that leave your face red and numb (but not numb enough to ease the freeze), there's the Balaclava Airmask. Designed for extreme cold — and we're talking sub-zero chills — it will fend off all the harsh elements from wind and sleet to UV rays, so you can be comfortable and protected, even in bone-chilling weather.
Fog Free: It may be warm as can be, but our winter ski mask is deceptively lightweight and breathable. You can count on its mesh and rubber center panel to allow air to pass in and out of your mask so that your breath and sweat will exit the premises before you feel any moisture against your skin — and before your goggles or glasses fog up.
All-day Comfort: Featuring four-way stretch, our cold weather face mask goes with the flow when you get moving. It's designed with 89% soft, flexible polar fleece polyester and 11% spandex and stretches to accommodate all head sizes comfortably. Designed with a long neck that tucks into your jacket, you won't have to worry about readjusting while you're out on the slopes.
High and Dry: The rubber and mesh breathing panel isn't the only thing keeping the inside of your mask dry all day. Designed with moisture wicking, breathable thermal fleece, our winter balaclava locks in the warmth but prevents moisture from accumulating.
Helmet-ready: Your go-to cold weather gear just got a lot more streamlined — our mask can be worn on its own as a full balaclava, or under your work, ski, or bike helmet as a low profile and comfortable helmet liner.
I get commissions for purchases made through links on this website. As an Amazon Associate I earn from qualifying purchases.