Press Release:
Boston, MA – June 24, 2021: Today, Reebok announces the latest iteration of its award-winning Floatride franchise with the release of the Floatride Energy 3 Adventure. Reimagined through the lens of the outdoors, it combines the best-in-class standards of the Floatride Energy 3 model with enhanced, durable features creating a high-performance running shoe perfect for any type of run.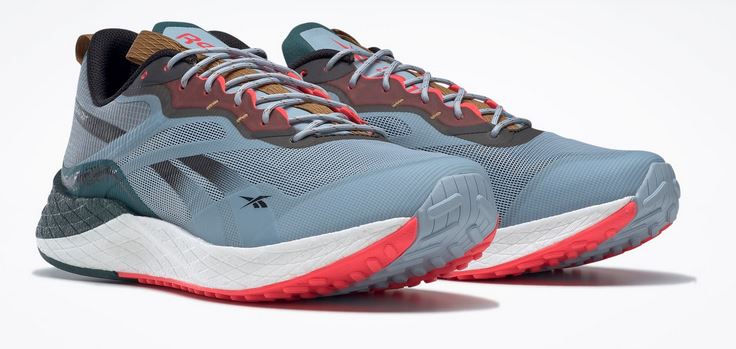 With versatility at its core, Floatride Energy 3 Adventure encourages runners to explore the outdoors and their fitness journey in new ways. With an increase in new runners and an increase in 'off-road' running as a form of both mental and physical wellbeing, Reebok wants to ensure runners have the gear to succeed wherever they may be.
"To have one shoe that you can start with on the road and end up on the trail, champions our mission in making running and the outdoors more accessible for all," says Keith Stern, Senior Product Manager at Reebok. "With Floatride Energy 3 Adventure, it was our goal to create a shoe that provided value and versatility for any and all types of runners."
Key features of the Floatride Energy 3 Adventure include:
Reinforced Toe and Heel add durability and water protection at high wear areas
100% Recycled Plastic Mesh Toe and 100% Recycled Plastic Ripstop Reinforced Heel is durable, lightweight and quick drying
Floatride Energy 3 midsole and outsole deliver performance and comfort on the road and trail
Introduced under Reebok's [REE]CYCLED product category, The Floatride Energy 3 Adventure builds upon the brand's sustainability efforts by using 100% recycled plastic mesh toe and a 100% recycled plastic ripstop reinforced heel. To learn more about Reebok's mission to build a fitter planet without impacting product performance visit: www.reebok.com/sustainability
The Floatride Energy 3 Adventure will be available starting July 8, 2021 for $110 in three men's colorways and three women's colorways on Reebok.com.
Sale
Bestseller No. 1
Bestseller No. 2
Reebok Women's Floatride Energy 3.0 Running Shoe, Blue Slate/Grey, 8
Flared Heel: To alleviate pressure on the Achilles
Square Knit Upper: for enhanced breathability and comfort
FloatRide Energy Foam: provides lightweight cushioning and a more responsive ride than original Floatride Foam
Carbon rubber outsole: for traction and durability where needed
Sale
Bestseller No. 3
Sale
Bestseller No. 4
Sale
Bestseller No. 5
Bestseller No. 6
Bestseller No. 7
Sale
Bestseller No. 9
Bestseller No. 10
I get commissions for purchases made through links on this website. As an Amazon Associate I earn from qualifying purchases.